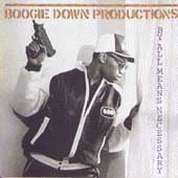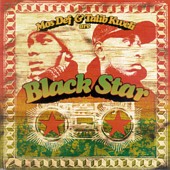 Anyone catch MTV's 22 Greatest MC show? The moment they announced number 22 I knew we were gonna have beef. Their list was the result of a public poll, so I have to give a little slack given all the youngsters that likely voted. (Learn your history!) And I do have to say that I didn't have too many problems with the list as a whole. But by first issue is the name of the show. Judging by the results, it should have been called the '22 Greatest Rappers'. Some of the people on MTV's list just don't qualify as MCs in my opinion. (Shock G has an excellent description of what an MC is on his site. ) Besides that, there are some glaring injustices on MTV's list: KRS-ONE after Nelly and Lil Kim??? The fact that Foxy and Lil Kim even made the list… Chuck D at 22…
So of course I had to come up with my own list. This was a very difficult thing to do, especially after I got out of my top 15. I really wanted to just say these next 30 people are tied for the next spot. But instead, I made an honorable mention list.
But first, some quick notes:


KRS-ONE is still number 1. KRS is the definition of an MC. Go to a live show, and you'll feel the power of a true MC. Crystal clear lyrics. Booming voice. Switching styles. Going acapella. Beating down wack soundmen (yes, I was at the LA show when that happened!) TEACHING! The choice is clear.
Rakim = skills! Check the lyrics. ("I take seven MCs, put 'em in a line/ and add seven more brothers who think they can rhyme/ well it'll take seven more before I go for mine/ then that's 21 MCs ate up at the same time.") True heads will note that the name of this site is a reference to a Rakim song:

My mind starts to activate, rhymes collaborate
Cuz When I heard the beat I just had to make
Something from the top of my head
So I fell into the groove of the wax and I said
How could I move the crowd?
First of all, ain't no mistakes allowed
Here's the instructions, put it together
It simple ain't it? But quite clever
Some of you been trying to write rhymes for years
But weak ideas irritate my ears
Is this the best that you can make?
Cuz if not, and you got more, I'll wait
But don't make me wait too long cuz I'm a move on
The dancefloor, when they put something smooth on
So turn up the bass, it's better when it's loud
Cuz I like to move the crowd

Eminem – If anyone out there doesn't think he's top 5, you're just a hater. This kid is niiice. Check for some of his freestyle joints.
Mos Def – I can't believe he wasn't even on MTV's list. What's wrong with you people? Mos could very easily have been number 1 on my list. Talk about talent. My man writes, acts, plays instruments, sings. And like KRS and Rakim, he actually rhymes about things that matter! People are really sleeping on Mos Def.
Grand Verbalizer Funkin' Lesson Brother J – Go back and listen to those old X-Clan CDs! Once again, skills, the ill flow, and actually talking about things of substance.
Roots Manuva – 99.9% of you don't even know who he is, and that's a damn shame. There's so much good music coming out of the UK, yet most of us Americans are deaf to it. This is one of the nicest rhymers out there, plus he's got the reggae mixed in. Wake up people!


| | | |
| --- | --- | --- |
| Rank | MTV | My List |
| 1. | Tupac | KRS-ONE |
| 2. | Biggie | Rakim |
| 3. | Eminem | Biggie |
| 4. | Nas | Eminem |
| 5. | Jay-Z | Mos Def |
| 6. | Rakim | Big Daddy Kane |
| 7. | Dr. Dre | Grand Verbalizer Funkin' Lesson Brother J |
| 8. | Lil Kim | Chuck D |
| 9. | Beastie Boys | LL Cool J |
| 10. | Missy Elliot | Brand Nubian |
| 11. | Bug Pun | Nas |
| 12 | Nelly | Tupac |
| 13 | DMX | Run-DMC |
| 14 | Run-DMC | Jay-Z |
| 15. | KRS-ONE | D.O.C. |
| 16. | Snoop Dogg | Furious 5 |
| 17. | Common | Snoop Dogg |
| 18. | Foxy Brown | Kool G Rap |
| 19. | LL Cool J | Sugar Hill Gang |
| 20. | Queen Latifah | Roots Manuva |
| 21. | Method Man | EPMD |
| 22. | Chuck D | Doug E Fresh |
Honorable Mention (in no particular order)
Bahamadia
Ice Cube
Ras Kass
Common
De La Soul
Black Thought & The Roots
Treach
Big Pun
Talib Kweli
Slick Rick
Busta Rhymes
Das EFX
OutKast
Dr. Dre
Craig G
M.O.P.
Missy Elliot
MC Lyte
Queen Latifah
Ice-T
Tash (Alkaholiks)
Craig Mack
Q-Tip
Chubb Rock
Method Man
Guru
Jeru The Damaja
Kurtis Blow
Poor Righteous Teachers
Mobb Deep
Dres (Black Sheep)
Paris
Pharcyde
Jurassic 5
Shock G
D-Nice
B Real (Cypress Hill)
Lauryn Hill
Roxanne Shante
Lady of Rage
Monie Love