I've been in a daze all day today after receiving the news that a dear friend of mine, Okokon B. Okon III, was murdered last night here in Atlanta. He was the victim of what appears to be a senseless crime. As usual, he was being productive. He was attacked in the parking lot just after leaving his office Sunday night. (According to a recent news broadcast the police still don't know what happened and appear to have few clues so far. Here's the transcript of the March 29th Fox News report on Okon's death. )
We, along with two other old college buddies, had just gone bike riding Saturday morning. He had brake trouble on two different bikes over the last two weekends and I'd been joking with him about how I was going to post pictures of him trying to fix the bikes. Little did I know that those would be the last pictures I'd ever get to take of him.
Okokon was one of the best people you'd ever want to meet — intelligent, a great brother to his siblings, always positive, enterprising and he was always very inspirational to me. It was he along with another friend, Maurice, who gave me the vision to strike out on my own and trade stocks for a living. I'm really going to miss being able to kick ideas around with him. Over the last few weeks we had been discussing how to monetize my weblogs, and we were supposed to get together this week to talk about him starting his own blog and to watch the Final Four. I still can't fully wrap my head around the fact that we'll never get to do those things.
We've had some great times — from just bugging out back at Stanford, to discussing the latest music (I just got him to change his opinion of Kanye last week), to him hipping me to the next great technology trend, to bruhs going worldwide on trips to Caribana, South Beach, Brasil… You'll be sorely missed my brother. Rest in peace.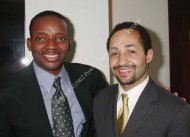 Update: There's now a memorial site for Okon please visit OkokonOkon.com
Edit to Add: Here is Okon's obituary from the Atlanta Journal-Constitution. (I've copied the text below)
MR. OKOKON BASSEY OKON, III Of Ellenwood, GA., and Chicago, IL., eldest son of Dr. Okokon B. Okon, II and Mrs. Alsena B. Okon passed March 29, 2004. He was the victim of what appears to be a senseless crime. Mr. Okon was born on January 23, 1968 in Albany, NY. He graduated from Stone Mountain High School in Stone Mountain, Georgia and went on to earn his B.S. (1989) and M.S. (1991) in Electrical Engineering from Stanford University in Stanford, California. Mr. Okon was a software engineer and consultant by trade and he loved ideas and innovation. Motorola employed him from 1992 to 1997, after which he co-founded the software-consulting firm CoPresence LLC. At the time of his death, he was an employee at Elemental Interactive in Atlanta, GA. He traveled extensively within the United States and outside of the country to Nigeria, UK, France, Spain, Netherlands, Brazil, and Canada to name a few places. Mr. Okon is survived by his parents, grandparents, Alsena Smith and Patricia Okon, four siblings, Iquo, Uduak, Songobong, and Afiong Okon, nephew, Jiano Okon Briggs, niece, Fantasia Smith. He also has a large extended international family in the United States and in Nigeria, West Africa, and a number of close friends and advisors around the world. Viewing will take place on Sunday, April 4, 2004 at 3:00 p.m. at the mortuary. Funeral services will be held Monday, April 5, 2004, 3:00 p.m. at the chapel of Donald Trimble Mortuary. Interment Kennedy International Memorial Gardens, Ellenwood, GA. In lieu of flowers, we welcome your prayers and contributions to Okokon Okon's Memorial Fund. Send contributions to Lloyd Metz, ICV Capital Partners, 666 Third Avenue, 29th Floor, New York, NY 10017. Please make checks payable to "Iquo Okon-Memorial Fund for Okokon B. Okon III" for proper processing. For more information, please call the hotline (877) 385-4018 or go to www.okokonokon.com. Donald Trimble Mortuary, Inc., 1876 Second Avenue. 404-371-0772-3.
Published in The Atlanta Journal-Constitution from 3/31/2004 – 4/4/2004.
Update: Stanford Magazine has done an article about Okon.